From Little Dean to Enoggera
Compiled by Joy Whaite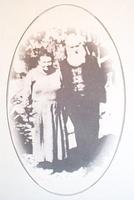 Walter and Lily Bailey - taken at Enoggera about 1923
Dedicated to all of Walter Bailey's descendents in the hope that this book may be of some use, when they too start on the trail to trace their family history.
Further copies of this book are available from Mrs. J.L. Whaite Bajoloma 293 Cowal Creek Rd, Bellangry 2446 NSW Australia for $A 25 posted, $A 30 Overseas
Copyright (C) Joy Whaite NSW 1994
ISBN 0.646.21385.7
Photocopied by Copy Quik Canberra ACT
Published by Joy Whaite Bellangry 2446 NSW Australia
jb19jul.doc 10 sep 2001
PREFACE
Soon after I started collecting material about Walter and his family, I obtained a copy of The Family Saga by Marie Lawry. It was published on the occasion of a Bailey family reunion held at Templeton, South Island of New Zealand on 3-4 December 1988 to celebrate 125th anniversary of the arrival of Walter's uncle Samuel and family at Christchurch in the Brothers' Pride in December 1863.
This book is, in a sense, complementary to that one and includes a lot of information from it - because of migration between Australia and New Zealand, some people are mentioned in both books.
In also calling my book a Saga i.e. tales of legendary exploits, I have deliberately followed the lead of the earlier one in order to add some colour to a mere recital of births, marriages and deaths but the interpretations of some of the records are entirely my own.
The book is a compilation of all the material given to me about the Baileys and I do not claim the version here given is the final or correct one and any corrections or additions for a future up-date would be most welcome.
Joy Whaite
ACKNOWLEDGMENTS
It would not have been possible to publish this book without a great deal of help from all of the people below to whom I give my thanks for their patience and co-operation, as well as my apologies for anyone inadvertently omitted.
In Queensland: Cliff Bailey, Edward and the late Beryl Bailey, the late Georgena Bailey, Gladys Bailey, Levene Bailey, Lou Bailey, Maurice Bailey, Fanny Bell-Booth, Alfred Gordon and Ann Phillips.
In ACT: Peter Bailey, Pam Biddle and Mary Gillard.
In NSW: Joyce Dando.
In New Zealand: Fanny Fritz, Alison and Ross Martin, Betty McCormack, Phyllis McNair, Ruth Tipping, Heather Watson and Gladys Woodside.
In England: Pam Daw, Debbie Hopton, Ann Lloyd Anne Martin and Robin Roberts.
Mrs J.V.Thorpe Archivist at Gloucestershire Record Office in England has been most helpful in searching original Parish Records for family members in that County, whilst the Secretary of Gloucester Family History Society has located a number of elusive records in their indexes.
Special thanks must be given to Alison Martin for her extensive researches into English records at Takapuna Family History Centre near Auckland NZ and to Jean McNally from Traralgon Vic for making available many of her records of our English relatives, gathered over the past 10 years.
As well, research at John Oxley Library in Brisbane Qld, J.S.Battye Library in Perth WA, National Library of Australia in Canberra ACT and Wauchope Library in NSW helped fill many gaps about Walter's family and their times.
My daughter, Lorraine Gratton provided the cover and title page.
Last but not least, my daughter Cathy Miller provided computer and printing facilities for the many drafts of chapters in the book and Richard Upton put the whole book into order.
WALTER BAILEY's LINE OF DESCENT
2.l ? William BAILEY bp ? c 1511 ?? Elmore
Chapter 2 married Johan Evans
? son
2.2 John BAILEY bp 1554 Wheatenhurst
Chapter 2 married Ann (??)
? Eldest son
2.5 Anselm BAILEY bp 1573 Wheatenhurst d pre 1646
Chapter 2 married Joyce(??)
Eldest son
2.6 John BAILEY bp 1602 Wheatenhurst d 1689
Chapter 2 married ??
? son
2.16 Anselm BAILEY bp ? 1623 Elmore d 1689 bu Wheatenhurst
Chapter 2 married Sarah ??
Third son
2.23 John BAILEY bp 1678 Whitminster d 1741 Standish
Chapter 2 married Edith Whitthorn
Eldest son
2.38 Anselm BAILEY b 1705 Standish d 1769 Longney
Chapter 2 married Sarah Jones
Second son
2.59 Anselm BAILEY b 1759 Longney d 1790 Longney
Chapter 2 married Mary Fowle
Elder son
3/2.105 William Fowle BAILEY b 1788 Blaisdon d 1862 Little Dean
Chapter 3 married Elizabeth Hill
Fourth son
4/3.5 Henry BAILEY b 1827 Little Dean d 1869 Newnham
Chapter 4 married Elizabeth Ann James
Second son
4.2 Walter BAILEY b 1853 Little Dean d 1936 Brisbane Qld
Chapter 5,6,17 married 1. Mary Ann James
Chapter 6,8,17 married 2. Lily Lewis
CONTENTS
PAGE No.CHAPTER ONE NAMES AND RECORDS page 1
CHAPTER TWO WALTER'S ENGLISH CONNECTIONS page 4
CHAPTER THREE WALTER'S GRANDFATHER: WILLIAM FOWLE BAILEY page 25
CHAPTER FOUR WALTER'S FATHER: HENRY BAILEY page 34
CHAPTER FIVE WALTER IN ENGLAND AND SOUTH AMERICA page 41
CHAPTER SIX WALTER IN SOUTH AFRICA page 43
CHAPTER SEVEN WALTER'S WORKSHOPS AND PATENTS page 45
CHAPTER EIGHT FAMILY LIFE AROUND BRISBANE page 48
CHAPTER NINE WALTER HENRY page 51
CHAPTER TEN ALBERT WILLIAM page 55
CHAPTER ELEVEN JOHN ERNEST page 59
CHAPTER TWELVE MARY ELLEN page 64
CHAPTER THIRTEEN ALFRED CHARLES page 68
CHAPTER FOURTEEN WALTER'S DANIEL page 71
CHAPTER FIFTEEN FANNY ROSE page 75
CHAPTER SIXTEEN EDWARD ANSELM page 77
CHAPTER SEVENTEEN CHILDREN WITHOUT ISSUE page 81
MARRIAGE INDEXES page 85
SPOUSES FAMILIES INDEX page 101
SELECTED PUBLISHED SOURCES page 103
APPENDIX I -WILLS page 104
ABBREVIATIONS
ACT Australian Capital Territory
b born
bp baptised - English records prior to 1 July 1837 show this date not date of birth
bu buried - English records prior to 1 July 1837 show this date not date of death
c circa i.e. approximate
chr christened
Cs Census - these were taken on 7 June 1841,30 March 1851, 7 April 1861, 2 April 1871, 4 April 1881 and 5 April 1891
crem cremated
Dbys Derbyshire England
d died
div divorced
Eng England
Glam Glamorganshire Wales
Gls Gloucestershire England
Hrt Hertfordshire England
IGI International Genealogical Index - a world index up to about 1875 of births and marriages compiled by the Mormons
m married
MA Marriage Allegation
Mass State of Massachusetts USA
MGF Maternal Grandfather in Spouses Families only
MGM Maternal Grandmother in Spouses Families only
Msx County of Middlesex England
NSW State of New South Wales Australia
NZ New Zealand
NT Northern Territory Australia
Occ Occupation
PR Parish Records
PGF Paternal Grandfather in Spouses Families only
PGM Paternal Grandmother in Spouses Families only
post after
pre before
PMB Pietermaritzburg Natal South Africa
Qld State of Queensland Australia
SA State of South Australia
Scot Scotland
Som County of Somerset England
Staffs Staffordshire England
USA United States of America
Vic State of Victoria Australia
WA State of Western Australia
Worcs Worcestershire England
Wyo State of Wyoming USA
X his/her mark and used in place of a signature by people who could not sign their names
(??) Record not found
? Record not proven
Further abbreviations are shown under individual genealogies.
All county areas in England and Wales are those applying before 1974.
NOTES ON GENEALOGY
The genealogy of each family is shown at the end of the relevant chapter. It commences with full details about the parents and their children are recorded in order of birth as First Generation. The Second Generation contains all of the grandchildren, following the order of the preceding generation, whilst Third Generation shows the great grandchildren and so on.
Descendents are numbered in sequence from the beginning of each new chapter and this number remains the same throughout. The initial number/s do not refer to generations, but to the chapter/s in which an entry is recorded and square brackets refer back to an earlier entry.
Female surnames are in lower case enclosed in brackets and males are in capitals and identify the surname of the children that follow.
Surnames are only mentioned in the heading 'Family of' and the first name is always that of a Bailey family member.
While collecting various records of family members, a lot of detail was found about their spouses families and this is recorded as Spouses Families for which an index is provided.
The genealogies are compilations of various records so far found of each family and additions and corrections would be welcomed. An information sheet for this purpose is provided at the end of the book.
---
Map of Engalnd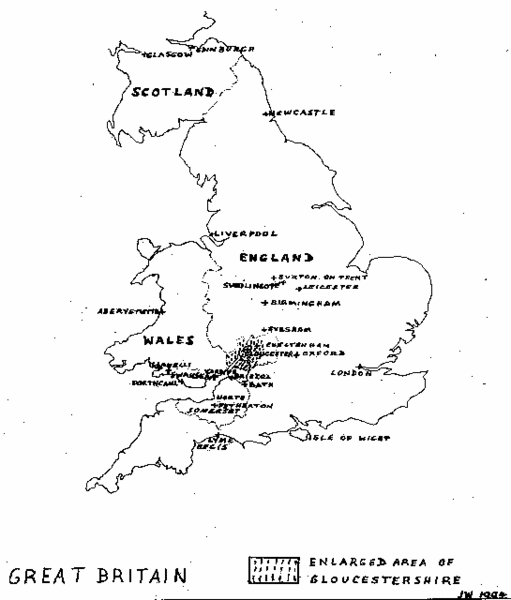 ---
Map of Gloucestershire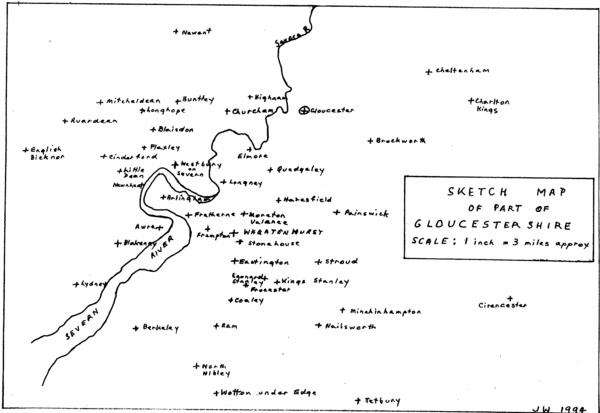 Revised October 2001