CHAPTER FIVE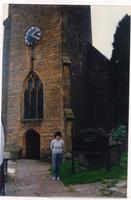 St. Ethelbert's Church Little Dean, where Walter was probably christened, taken in 1988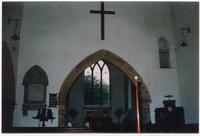 Interior of church with Benefactions Board to left of window.
WALTER IN ENGLAND AND SOUTH AMERICA
Though Walter was born in Little Dean in 1853 his parents had moved to Newnham by the time he was seven at the time when Queen Victoria had ruled over England for more than twenty years. He and his brothers probably spent some of their time playing near the river Severn, especially when the famous bore wave, which could be up to 1 metre high, was travelling upstream with the incoming tide.
Like all children in those days, he would have been quite young when he was put to work helping Henry in the blacksmith shop and according to family stories, Walter was only 13 when he was a fully trained blacksmith. Henry kept him working hard and also trained him as a pattern maker for coffins and as well taught him to be fitter. A basic part of this training is said to have been to take a piece of round steel, then file it by hand to a square shape, then to a hexagon and then back to round.
After his father's death early in 1869 Walter had to help out with the family finances by working in the nearby coal mines, probably in the Forest of Dean. According to the census on the night of April 3 1871 Walter was living at the lower end of High Street Newnham, unmarried, occupation wheelwright, being a lodger in the house of Edwin Shermer. At that time, his younger brother Daniel was in Westbury Union workhouse but perhaps an 18 year old youth was not considered to be a suitable guardian.
Though his father Henry had been a follower of the Church of England, Walter became a lifetime adherent of the Christadelphian faith, sometimes called Thomasites. The sect had been founded by John Thomas in USA about 1844 and he had coined the name which means "brothers of Christ". The name was adopted during the American Civil War, when the sect had to organise formally in order to justify its objection to military service. Besides refusing to bear arms, Christadelphians did not take part in public affairs and therefore did not vote, nor enter the service of government, nor join trade unions.
In England, the main group (Ecclesia) was at Birmingham in Warwickshire about 60 miles to the north of Newnham and it was here that Walter was baptised into the faith in 1872. There is a record in May 1871 of Walter ordering a suit from the town's tailor, John Palmer and this was most likely to have been his 'Sunday best' one, to be worn when attending meetings though possibly there was another Christadelphian group closer than Birmingham.
The next record of Walter comes from Llanelli in Wales, where on 27 October 1872 he married Mary James, and the wedding took place at Holy Trinity Calvanist Methodist Chapel. Both bride and groom were residing at Penyfon Street, Llanelli, so there is no clue as to where Mary came from, nor where they met. Perhaps she was a relative of his mother Elizabeth Ann, but as she was never a Christadelphian, Walter did not meet her through that church.According to one of his grandsons, Walter was penniless at the time, nor did he have any prospects.
There were copper and lead smelting works at Llanelli, so perhaps Walter found a job there, either in the works or because it was the owners of the smelter who had given him a contract to go out to Peru and open up a silver/lead mine in the Andes mountains above Lima.
Working conditions in England around the time of Walter's marriage had hardly altered since his uncle Samuel had, nearly ten years earlier, emigrated to New Zealand to improve his position in life.
In South America, the Brazilian authorities were keen to get people to open up new territories outside of the cities and they had appointed one William Yeates as a paid emigration agent to recruit English workers for them. Yeates, a Gloucester mechanic, was an organiser for England's first union of agricultural workers - the National Agricultural Labourers Union.
One of the men he recruited after much persuasion was Thomas Baylis (probably not a Bailey relation) who as a blacksmith in the smithing shop of Great Western Railway was earning a mere 28 shillings a week.
On their arrival in Rio Janiero in July 1872, the English settlers were sent up country to a colony at Cananea in the province of Sao Paulo. However, the humid weather, coupled with the appalling living conditions, had devastated the newcomers and within a few weeks, 15 of them had died from fever.
One of the unlucky ones was Thomas Baylis and he left a widow and 5 children. It was only with government assistance that the family was able to return to England, where they arrived in February 1873.
Even while reports about the Brazilian conditions from Baylis' widow and other disgruntled settlers were being circulated in English newspapers and questioned by public figures, Yeates was still trying to recruit new settlers to go to Brazil. In the end, and not before time, public outcry became too much and the Brazilian emigration scheme ended.
It was doubtless for similar reasons, that Walter decided to go to Peru to make his fortune. When he left, Mary who was pregnant, stayed behind in Llanelli and arrangements were made for Walter to get thirty shillings a week and Mary twenty five, rising to thirty when the baby was born. It seems that Walter went away late in 1872 or early 1873 and as the Panama Canal was not opened until 1919, it would have taken a long time to get to his destination - the port of Lima. There he was to buy the mining machinery for the mine and to treat an existing spoil heap and take it up to the actual site on mule back, or perhaps on llamas - one of his grandchildren was told how he hated them, because they spat at him. The mine only lasted a few months and then went broke and so by the terms of his contract it now belonged to Walter. He had great difficulty in selling the mine in Peru and with very little money, made his way to Valparaiso in Chile. There he managed to get a job as an engineer on a Spanish man of war and eventually returned home, probably late l874 or early 1875.
Meanwhile, back in Wales, Mary had her child either in Llanelli or Swansea but she was very fond of a glass of wine or two, and soon after it was born (we do not know its sex or name) she rolled onto it in her sleep and it died. Not wanting to forego the extra money, Mary found another child, said to be the daughter of a sea captain named Lewis who arranged all the adoption papers.
When Walter got home, he found Mary with a daughter of a fair age, and it seems that the birth had never been registered. (Walter did not know about the adoption until May l894 on Mary's death). Perhaps because he did not want to pay the fine for an unregistered child, Walter at the end of June 1875 went to the Swansea registry office and reported the birth of a girl, said to have been on 26 May 1875 at 4 Lower Oxford Street, Swansea whose name was to be "Daisy Elizabeth".
Mary's next child Walter Henry was born in 1878 at Aberystwyth a town on the north west coast of Wales - perhaps Walter had got a job in the coal mines there. Whether it was because of hard times, or because as one of his sons said, he had a falling out with the elders of his faith, Walter decided to emigrate and perhaps he chose South Africa because there was a Christadelphian group already formed in Pietermaritzburg, where his sponsor S.Bayley lived.
He and the family would have had to go to London to join their ship and records show the family comprised Walter and his wife Mary, D. Bailey a child of 5 (wrongly shown as a male) and W. Bailey aged l, while Walter's occupation was given as Carpenter. They travelled as Free Settlers on the Conway Castle and arrived at Durban on 20th September 1879.
All the places in this genealogy are, unless otherwise noted, in England and Wales.
5/[4.2.1] Walter BAILEY b 27 Oct 1853 bp 26 Nov 1853 Little Dean Gls m 1. 27 Oct 1872 Llanelli Glam Mary (James) b c 1852 ? Aberystwyth Cardiganshire Wales d 20 Apr 1894 PMB Natal South Africa
First Generation
5.1 "Daisy Elizabeth" b ? 1873 registered as b 26 May 1875 Swansea Glam (actually an adopted child known as Lily surname Lewis)

5.2 Walter Henry b 24 Feb 1878 Aberystwyth see chapter 9
SPOUSE FAMILY
5/[4.2.1] Mary (James)
Father Thomas JAMES Occ Coachman Mother Mary (??)
Revised October 2001