CHAPTER SIX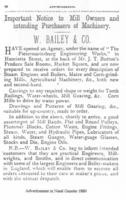 Advertisment in Natal Gazette 1880
WALTER IN SOUTH AFRICA
After arriving in Durban, Walter eventually took his family up in the hills to Pietermaritzburg 70 miles inland . The railway was not opened until 1880, so they probably took a coach to their destination. Pietermaritzburg, simply known as Maritzburg by the English settlers was founded by Dutch voortrekkers in 1835 and had been annexed by the British about l840. It was a busy place being the seat of Lieutenant Governor of Natal and home to a British Regiment and the ideal area to set up a blacksmithing and engineering business.
Walter advertised his business called Pietermaritzburg Engineering Works in David's Natal Almanac of 1880 and it was in the rear of Mr. J.T.Button's Produce Sale Rooms in Henrietta Street. By 1882, the works had moved to the Market Square at 28 Loop Street, while the family lived at 49 Burgher Street Pietermaritzburg.
There were no entries in Natal Almanac from 1883 to 1887, so maybe the family were living at Lot 476 Town Lands on Town Bush Valley Road. On present day maps, this road is to the north west of the town, parallel to and about half a kilometre from the freeway to Johannesburg.Lot 476, some 4 acres l rood and 18 perches in extent was registered in Mary's name by right of 'post nuptial contract'. There is a family story that it was Mary who had all the money in the family and it is tempting to speculate that it may have come from Daisy Elizabeth's sea captain father to pay for her upbringing. Mary's father is said to have been a coachman and it was hardly likely that he could have given his daughter such a substantial dowry.
When the family moved to Town Bush Valley Road, one of their first jobs was, according to Ted Bailey, to plant aloes all around the land to mark its boundaries. As was the custom of the time Walter employed the local Kaffir men to do most of the hard work in his business while the local women helped around the house and looked after the children. Walter was a large framed and very powerful man and according to Daniel could easily discipline any Kaffir men who displeased him by knocking them out cold with his fists, despite their very thick skulls.
Besides doing general engineering work and blacksmithing, it seems that Walter also built up a good trade in repairing brickmaking machinery. In the entry for 1888 in the Natal Almanac, Walter is shown as having a business called Safety Wind Engineering Works at Town Bush Valley Road. This suggests that he was now making winding machinery, possibly for the gold mines at Johannesburg, which were not that far away.
While Walter's businesses had fine sounding names, they probably did not make enough profit to feed his growing family. To supplement the family finances, they raised pigs, goats and chickens which were killed and dressed and once a week, were delivered to Pietermaritzburg.
There were five children born while they were at Town Bush Valley Road - Albert in l880, John in l882, James in l885 and their first daughter Mary Ellen in l887. After the birth of Alfred in l889, Mary's health rapidly deteriorated, as she often indulged herself with a bottle of wine. It seems that the supervision of the household and of the new baby and the rest of the children fell onto the shoulders of the eldest girl, Daisy Elizabeth, called by the family "Lil".
Apparently, the family also kept a boarding house at Town Bush Valley Road, and on 24 November l890 Lil had a daughter Dinah Maria, said to have been by a Portuguese boarder, who had taken advantage of her while the rest of the family were away.
Mary finally succumbed to 'liver atrophy' on 20 April l894, leaving an estate of eight hundred pounds - a tidy sum in those days. It was made up of an insurance policy worth two hundred pounds together with the property at Town Bush Valley Road valued at another six hundred pounds.
On her death bed, Mary had astounded Walter by declaring that "Lil" was not his daughter, but a child she had adopted about l873, after the death of her own baby. She is said to have had all the papers to prove these facts - if only we had them today!
After Mary's death, Daisy Elizabeth became Walter's wife, giving her first name as Lily (from the name she was always known in the family) and the surname of Lewis, taken from the adoption papers. They may have been married later on in Aden, Arabia, as shown on their childrens' birth certificates, and we are still trying to locate these records.
Their first child Jane was born on l8 May l895 and even then conflicts were beginning in South Africa between the British and the Dutch. With the discovery of gold near Johannesburg in 1886, thousands of people of all nationalities poured into the area, which was not that far from Pietermaritzburg, but the Dutch who ruled over the gold areas, would not let these foreigners have any say in the government. Early in 1895 there was a raid led by a Dr. Jamieson (at the instigation of Cecil Rhodes) which tried to start a rebellion, but even though the raid failed, it triggered off many arguments between the Dutch and British which eventually led to the Boer War. The Christadelphian faith was strongly pacifist and so Walter decided to leave South Africa lest any of his sons be conscripted to fight in the coming conflict. Why he finally went to Queensland, or even Australia, we have no idea.
The family's first attempt to leave the country in the middle of l896 was a failure. According to one story, Walter had booked a passage for the family on a boat returning to England and they had gone down to Capetown to catch it. They were late arriving at the wharf, and only saw their ship way out on the horizon, because it had left without them. They did not realise at the time just how lucky they were, as after their original boat (said to be the Drummond Castle) left Capetown, it was wrecked on 16 June 1896 on Ushant Island at the entrance to the English Channel on the last day of its journey and out of 245 passengers, there were only three survivors!.
Next it seems, Walter and the family went east across the Cape to Port Elizabeth, and probably caught a series of local boats up the east coast of South Africa to the British Protectorate of Aden, to join up with the steamship Darmstadt on which they travelled to Australia. This ship was one of several belonging to North German Lloyd Line, which had started a shipping service to Australia in 1886 and its voyage had started at Bremen , with calls at Antwerp, Southampton and Genoa, where it picked up a number of passengers of Italian origin, coming to Australia as labourers and domestic servants. It then sailed through Suez Canal to Aden, where it picked up Walter and his family and possibly other passengers. It cannot have been a pleasant trip for Lily, who was carrying Daniel at that time and having no help with baby Jane - let's hope none of the children were sea sick. Walter probably spent most of his time down in the engine room with the four older boys, initiating them into the mysteries of his life long passion - steam machinery.
After calling in at Colombo in Ceylon to fill the coal bunkers, the Darmstadt began the long hot 3,000 mile journey across the Indian Ocean with a land fall on the coast of West Australia.
Because it was not until l90l that steamships could berth at Fremantle, their journey continued southward and around Cape Leeuwin and the Darmstadt finally docked at its first Australian port - Albany. The ship stayed there from ll pm on 20 April, l897 until noon on 21st, but the passengers probably had to stay on board. They then set sail for Melbourne, across the sometimes stormy Great Australian Bight and the Darmstadt left that port about 29 April, finally arriving in Sydney on l May, 1897.
All places in the genealogy that follows are, unless otherwise noted, in Pietermaritzburg Natal South Africa (PMB)
6/[4.2.1] Walter BAILEY b 27 Oct 1853 Little Dean Gls m 1. 27 Oct 1872 Llanelli Glam Mary (James) ? b c 1852 Aberystwyth Wales d 20 Apr 1894 PMB Natal Sth Africa
First Generation
All births at PMB
6.1 Albert William b 29 Oct 1880 see chapter 10

6.2 John Ernest b 3 Nov 1882 see chapter 11

6.3 James George b 8 Nov 1885 see chapter 17

6.4 Mary Ellen "Polly" b 11 Jan 1887 see chapter 12

6.5 Alfred Charles b 10 June 1889 see chapter 13
6/[5.1] Family of Lily (Lewis)
6.6 Dinah Maria (known as Bailey) b 24 Nov 1890 PMB see chapter 17
6/[4.2.2] Walter BAILEY m 12 Apr 1896 Aden, Arabia (BC Edward Anselm) " Daisy Elizabeth " [5.1] Lily (Lewis)
First Generation
6.7 Jane b 18 May 1895 PMB see chapter 17
Revised October 2001